Dear friends,
The heartbreaking violence in Israel-Palestine hit very close to home on Saturday. A few miles away from where I grew up in Illinois, a six-year old boy named Wadea al-Fayoume was murdered.
What was this child's crime?
Wadea was a Palestinian Muslim. On Saturday, he and his 32-year-old mother Hanaan were at home when their landlord, Joseph Czuba, brutally attacked them. He stabbed Wadea to death and tried to kill Hanaan, seriously injuring her. Reports indicate that Czuba believed this little boy and his mom were dangerous – simply because they were Palestinian Muslims. Mirroring the atrocious violence in Israel-Palestine, he attacked them with a military-style knife. The FBI is investigating this murder as a hate crime.
Sadly, Czuba had several crosses displayed on the property where he attacked precious Wadea and Hanaan. Somehow this "Christian" landlord believed that publicly memorializing the violent murder of Jesus and then violently murdering a small child were not incompatible. This breaks my heart to its core.
I'm reminded of my friend Colton Bernasol's powerful work on the devastation of Christian symbols. Jesus's cross is the ultimate symbol of God's self-giving love and forgiveness: rather than killing us, God in Jesus suffered with us and for us. That is the original meaning of the cross, transforming Rome's weapon of execution into a symbol of salvation. And yet too many Christians throughout the ages, including on Saturday in Plainfield, continue to devastate Jesus's cross by turning it into a weapon of hatred and violence.
Jesus himself fiercely warned that it would be better to jump off a cliff than to harm a child. He also boldly highlighted hated "others" in his society and then lifted them up as exemplars of God's heart. In many ways, Jesus's famous Parable of the Good Samaritan is one of the most ancient and powerful examples of anti-othering in history. The core of Jesus's message? "Love your neighbor and you will flourish" (Luke 10:28).
Othering is deadly. It simply means seeing other people as unrelated or less than ourselves. It can sound like this: "Those people are dangerous." "They are out of control."
This may not sound like an ideology of murder. But when we see people and talk about them like this, our vision grows blurry and our hearts harden. We no longer see a child as a child but a member of an abstract group that we oppose. When othering becomes extreme, it can "justify" killing a child. "They" become the "enemy," and we believe we are helping "us" by harming "them."
We can't honor Israelis by othering Palestinians. We can't honor Palestinians by othering Israelis. We can't honor Christ by othering Muslims. All are imprinted with God's precious dignity. All are connected to us and equal in value. All are our neighbors in God's eyes. This is why devaluation and violence against any is an atrocious evil in God's eyes.
How can we resist othering and practice peace today? 
First, if you're in the Chicagoland area, please come out to Plainfield tonight (October 17)) at 8pm. There's a vigil honoring the life of Wadea al-Fayoume and lifting up human dignity in the face of hate. I hope to see you there.
Prairie Activity & Rec Center
24550 W Renwick Road
Plainfield, Illinois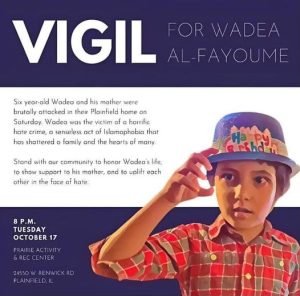 Second, take a few minutes to contact your representatives and urge them to support an immediate ceasefire in Israel-Palestine. All the information you need is at this link. Violence can't secure either community or honor God; ceasefire is the first step toward God's will for peace. I'm grateful for the exemplary leadership of Telos to organize this campaign and to make it so easy to participate in.
Third, we can educate ourselves about the devastation of Christian symbols like the cross and how this devastation can be healed. I highly recommend listening to or reading Colton's essays on this urgent topic at this link.
Fourth, we are neighbors, and God commands us to love one another. Let's recenter this love in our seeing, speaking, and action today. If you'd like some fresh inspiration for how to do this, please visit the Neighbor-Love Movement's website and embrace your body as an instrument of neighbor-love. Neighbor-love begins in the most basic movements of our bodies.
***
I grieve the death of dear Wadea. I grieve the death of every Israeli. I grieve the death of every Palestinian. Each one is made and loved by God. Nothing demonstrates this more powerfully than the cross: Jesus chose to reject violence and to suffer with us and for our healing.
If you do nothing else today, speak dignity over Israelis – precious neighbors. Speak dignity over Palestinians – precious neighbors. Speak dignity over the people near you – precious neighbors. Remind yourself and your community that no one is less or unrelated; all of us are connected and equal in value.
We are neighbors created by God to love one another.
Yours with grief and hope,
Andrew