Dear friends,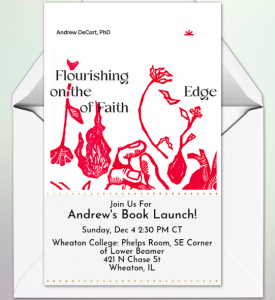 My beloved wife Lily is generously hosting a launch party for my new book Flourishing on the Edge of Faith.
The party is at Wheaton College on Sunday December 4th at 2:30pm, and it's my pleasure to extend Lily's invitation to you below. As Lily says in her letter, I realize that many of you are distant from the Chicago area. But I wanted to make sure that all of you feel warmly invited to celebrate with us. I'll let you know if streaming the event online becomes possible.
This will be the first gathering where the book will be available for purchase, and it would be a special privilege to sign your copy and express my gratitude for you going on this journey with me toward a fiercer flourishing.
If you are able to join us, kindly RSVP here at your earliest convenience. I'll turn it over to Lily now and hope to see you at the party!
Yours with gratitude and anticipation,
Andrew
Invitation to Andrew's Book Launch 
Hi friends,
This is Lily DeCort 🙂
I'm delighted to invite you to the Chicagoland launch of Andrew's new book Flourishing on the Edge of Faith. Some of you aren't in the Chicago area, but I wanted to include everyone.
Andrew's book has completely changed and enriched how I understand Jesus's prayer and human flourishing. I love it, and I think you're going to love it too.
I hope you'll come out, bring friends, and help us celebrate. Here are the event details:
Date: Sunday December 4, 2022.
Time: 2:30-4:00pm CT.
Location: Wheaton College: 421 N Chase St, Wheaton, IL – Todd Beamer Center, the Phelps Room (enter the lower level from outside). .
Parking: Parking is available next to the Billy Graham Center at 500 College Avenue, Wheaton, IL 60187. If you look north from the northeast corner of the parking lot, you can see the Todd Beamer Center at the top of the hill, past the yellow-stone Welcome Center. Enter at the lower level, and the Phelps Room is the first room on the right.
Please RSVP as soon as possible and help me build momentum for Andrew's book by sharing the RSVP link in your networks: https://evite.me/bA9Ax7Msgd
Andrew's book is $20, and you'll be able to buy signed copies at the launch party. This book is beautiful and would make a special Christmas gift if you'd like to purchase extra copies.
See you on December 4th!
Lily DeCort