Dear friends,
What does vulnerability feel like to you?
For me, vulnerability at its best feels like the intersection of frightening self-exposure and soul-filling connection. The self-exposure is frightening because it opens the possibility of being rejected, humiliated, or simply ignored.
But the self-exposure, however frightening, can lead to soul-filling connection precisely because we've taken the risk of opening ourselves and revealing something intimately important to us. When we do this, we invite others to respond in kind with their own vulnerability.
And when vulnerability meets vulnerability, something divine happens.
I've experienced this in a new way as I prepare to share Flourishing on the Edge of Faith with the world. This book has been gestating in my heart for several years, and I've poured my soul into every word. It's intimately important to me.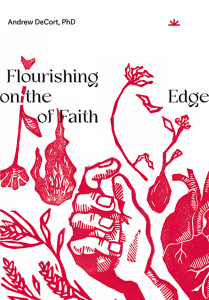 But after the book was written, I wasn't done. I then faced that scary moment of self-exposure: I needed to share the book with reviewers and ask for their honest assessment of its value.
Perhaps other writers are stronger than I am. But I confess, this was an extremely vulnerable moment in my life. At night, I'd turn the light out, put my head on the pillow, and find myself ruminating over terrifying questions like: What if they say it's garbage and a waste of time? Or what if they say it's mediocre and meh? Or what if they don't respond at all and signal that my work doesn't matter to them? Then my vulnerability got meta, and I pondered over this chestnut: All of these responses are possible; I wonder which one would hurt the worst?
Does your mind ever spiral into dark places like mine sometimes does? I find this happens to me when my soul is most wide-open. In that vulnerable posture, even a tiny poke can feel like a stab in the heart.
But it was too late. I had done my very best with the book, and I decided to trust the risk of exposing myself. I took a deep breath and sent the manuscript to around forty of the people I respect most in the world.
My book is all about Jesus's practice of flourishing and how we can embody it today for our shared flourishing. But my hope is that the book will speak to diverse people and especially those on the edge of faith. And so I decided to send the book to a wildly diverse spectrum people, many at the top of their fields – a Christian ethicist, a Jewish professor, a Muslim community organizer, a secular journalist, an atheist philosopher, an Evangelical pastor, a recovering drug-addict, a groundbreaking entrepreneur, a conservative opinion writer, a sex therapist, a popular singer, the head of the World Peace Foundation, a brilliant medical doctor, some of my closest mentors and dearest friends, and many others.
I wanted to put my book to the test and see if these people – people of different faiths, different professional vocations, different cultural backgrounds and worldviews – would find my book worth reading and taking seriously in our search for fierce flourishing. Perhaps the scariest part for me was that many of these people didn't know me personally, and so they wouldn't feel bashful about telling me what they really thought.
I hit "send" and then anxiously waited for replies. The emails started trickling in, and I hesitated to open them. There's something dizzying about that split-second of suspenseful uncertainty: Am I about to get stabbed with rejection, hit with humiliation, dismissed with indifference, or embraced with soul-filling connection? In that vulnerable moment, my soul's posture anxiously wavers between a cringe and a hug.
Quite beautifully to me, the first reply came from the Muslim community organizer – Eboo Patel, the president of Interfaith America and advisor to President Obama's Faith-Based Neighborhood Partnerships. Then I heard from the atheist philosopher David Livingstone Smith, the recovering drug-addict, the brilliant medical doctor Jenna Heath, the conservative opinion writer Peter Wehner. By the end, I received over forty responses.
And again and again, I was surprised to experience the embrace of soul-filling connection. There was no rejection, humiliation, or indifference. Each reviewer affirmed that Flourishing on the Edge of Faith is a valuable guide for anyone seeking a flourishing life. In fact, several told me that it made them cry and filled them with hope.
I want to thank each of these people for meeting my vulnerability with theirs. They generously gave of their precious time to review and endorse my book, and the result for me has been soul-filling connection lit with gratitude and joy.
Today I'm delighted to share a small selection of their endorsements with you. The vulnerability lingers, but I can't wait for Flourishing to be born next month. My prayer is that my vulnerability will meet yours and that something divine will happen.
"This book is subtle and radical. Its stated aim is modest: to introduce you to a practice of prayer. But if you open your heart enough, it will introduce you to a new worldview, and maybe even change your world. Prayer is powerful. Faith is powerful. This book will show you the way."

Eboo Patel, Founder and President, Interfaith America
"This book is at once comforting and discomfiting in a deeply personal way. I confront the devastation of war every day, and so I keep a poster on my office wall that reminds me, 'Don't be ashamed to stand for peace.' Whether you're a believer or not, Flourishing on the Edge of Faith will give you the shameless courage necessary to stand for peace."

Dr. Alex de Waal, President, World Peace Foundation
"Flourishing on the Edge of Faith is pitched as speaking to 'those on the edges of faith,' but its fresh, blazing, Jesus-intoxicated spiritual vision can speak to everyone. What looks at first like an exposition of the Lord's Prayer turns out to be a powerful, honest, high-intensity, high-integrity invitation to know Jesus and practice his way. For me, it was like being introduced to Jesus again. I love this book!  I think Andrew is one of the most inspired, and inspiring, Christian thinkers and practitioners that I know anywhere in the world."

Rev. Dr. David Gushee, past President, The American Academy of Religion and The Society of Christian Ethics 
"I am an atheist, would never dream of praying, and believe that religion has wrought much evil in the world. I also think that religion can be a powerful ally in the quest for truth, justice, and human fulfillment. In its clarity, compassion, and expansive spirit, Flourishing on the Edge of Faith embodies the kind of Christianity that I do not hesitate to get behind."

David Livingstone Smith, author of On Inhumanity: Dehumanization and How to Resist It
"In this passionate call to theological engagement, Andrew DeCort has presented the Lord's Prayer as a 'life practice' — whose embodiment is nothing less than an opportunity to incarnate love and moral responsibility in our world. Flourishing on the Edge of Faith is a guidebook for the soul."

Michael Fishbane, Nathan Cummings Distinguished Service Professor of Jewish Studies Emeritus, University of Chicago
"Flourishing on the Edge of Faith is a powerful reflection on the Lord's Prayer, written with sensitivity and sophistication. Andrew DeCort loves Jesus; he is on a journey of discovery and longs for others to live lives of 'fierce flourishing.' Flourishing on the Edge of Faith is engaging, transparent and practical, filled with powerful stories, written by a man whose faith has taken him from the University of Chicago to Ethiopia's devastating civil war. Through it all prayer has sustained Andrew; his hope, in the form of this book, is for prayer to sustain us as well."

Peter Wehner, writer for the New York Times and The Atlantic, author of The Death of Politics: How to Heal Our Frayed Republic After Trump
"DeCort offers a fresh, invigorating reinterpretation of a prayer so familiar that even those of us outside the Christian faith can recite it from memory. Rich in insight, brimming with passion, and intensely personal, this is a book from which even those who are not religious can draw courage and inspiration."

Tom Gardner, East Africa Correspondent, The Economist
"Andrew DeCort has given us a rare treasure in Flourishing on the Edge of Faith, transforming what so often becomes rote into a tool for renewal. To unpack the heart of Jesus's teaching in those seven lines is a gift of tremendous worth."

Sarah Borden Sharkey, Professor of Philosophy, Wheaton College
"I experienced something radical while reading this book and 'bathing' in my belovedness: peace, security, surprise, calmness, stillness, an odd euphoria. I've heard the exhortation for literally decades, but I'd never felt it before. Andrew's writing was what made that practice accessible to me."

Recovering drug addict 
"I think of Dr. Andrew DeCort as the C.S. Lewis or Dietrich Bonhoeffer of our time. His writing provides rare and breathtaking insight into the words of Jesus and shows how they have the power to help us reimagine every moment of our lives."

Grant Hensel, Founder, The RoundUp App 
"Flourishing on the Edge of Faith sings a protest song of radical belonging, unconditional love, and miraculous newness. Reading it had my heart racing and eyes watering. It reverberates with the messy and profound goodness of being human together."

Jenna Heath, M.D., Obstetrician-Gynecologist, University of Southern California Keck School of Medicine
"For those like me who have all but thrown in the towel on Christianity, this is an inspiring and fresh look at what it really means to follow Jesus. Rigorous yet accessible throughout, DeCort draws upon diverse artists, thinkers, and doers to challenge us to a more spacious, grounded, and other-centered life of faith."

David Ellis, Co-Founder and Director, Flow Equity
"People today are not only uninterested in the Christian faith but antagonistic to it. Andrew weaves stories and current events into this book that not only keep our interest but are highly practical and relevant in helping readers re-engage with faith in Jesus. I highly recommend this book for people working to love the world."

Dr. Wayne Gordon, Pastor, Lawndale Community Church; President Emeritus, Christian Community Development Association
Friends, I'm excited to share this book with you, and I'm so deeply grateful for each person who's generously shared soul-filling connection in this birthing process. The book will be out next month, and a pre-order link will be available soon for the paperback, digital, and audio versions.
Yours with gratitude and anticipation,
Andrew
P.S. To receive updates on Flourishing's release, kindly signup here.