Dear friends,
This week I'm delighted to share two gifts with you.
The first is a new podcast interview that I recently recorded with David Katibah for Telos's The Check-in.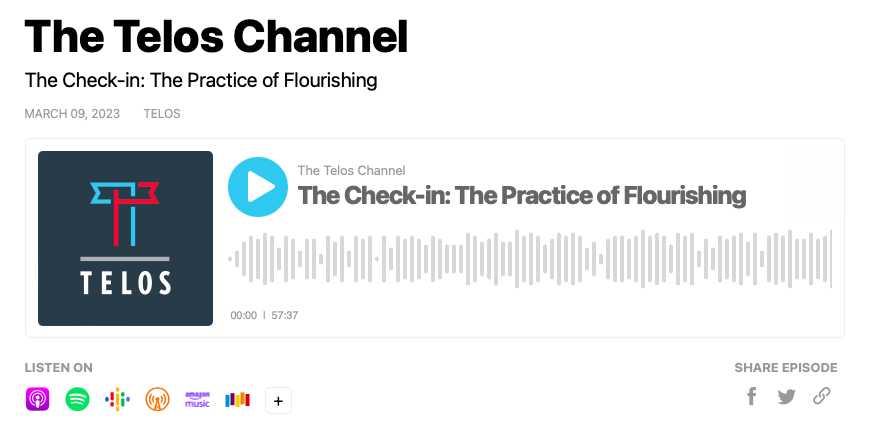 In "The Practice of Flourishing," David and I discuss what it takes to flourish in the face of conflict and pain. We explore how practicing Jesus's prayer grounds us and gives us the courage to be peacemakers. This conversation is a great introduction to my book Flourishing on the Edge of Faith.
I was moved by David's incredible warmth, insightful questions, and passion for peacemaking. I hope you listen in and enjoy the conversation. The episode is available here and on all major platforms.
Second, I'm delighted to share an excerpt from chapter five of my book Flourishing on the Edge of Faith. This chapter is all about Jesus's practice of forgiveness: "Forgive us for our sins as we forgive those who sin against us."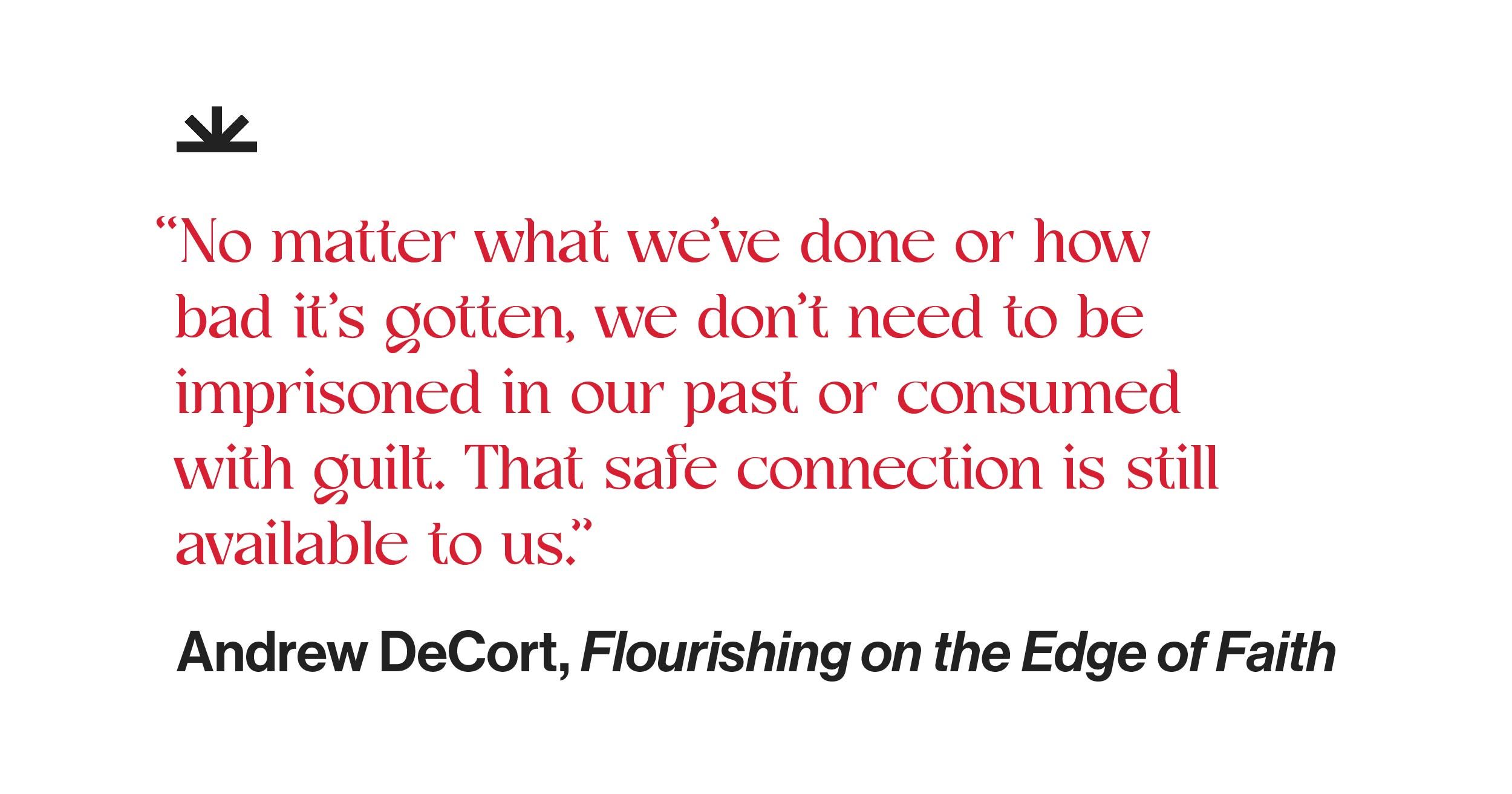 The last few weeks have reminded me just how intensely personal and painful seeking forgiveness can be. Can we be forgiven? Can we forgive others? Are new beginnings possible, or are we imprisoned in our past?
Jesus's practice of forgiveness is grounded in a simple but liberating conviction: God wants to forgive us. God actually loves us, values us, and wants to hold on to us – not our failures. When we learn to trust God's forgiveness, new energy is unlocked within us to forgive ourselves and forgive others.
I hope this excerpt encourages you to pray Jesus's prayer every day. How beautiful and healing it is to take a moment each day to consciously receive and offer forgiveness. This is a practice of new beginnings.
May you flourish,
Andrew
"God Wants to Forgive Us"
The beginning we trust defines the horizon of our future.
As we've seen, Jesus's spirituality is anchored in this primal origin of divine love. God is our loving Parent, and we are we – God's beloved children. And so Jesus's fifth movement requires us to reimmerse ourselves in the divine baptism of his first.
Recall that Jesus describes God as "kind to the ungrateful and the wicked." Against popular religious visions, Jesus reintroduces us to God as the Lover of enemies. This divine vision inspired Jesus's beautiful story about the scandalously merciful father who runs to his disgraced son, hugging and kissing him as he welcomes him home after total failure. When the son confesses, "I am no longer worthy to be called your child," the father silences his shame and says, "Let's have a feast and celebrate!" (Luke 6:35-36 and 15:23).
This vision of God is why Jesus teaches that God wants to forgive us rather than punishing and rejecting us when we fail. Before anyone else, God is that courageous Agent who chooses to hold on to us and release the pain we've caused. God is the infinitely creative Author who desires to start rewriting our story with redemption and hope.
Of course, our hallowed G-d holds us accountable. We need to recall Isaiah's response when he heard heavenly beings thunder, "Holy! Holy! Holy!" He cried out, "Woe to me! I am lost!" He faced his troubling recognition and immediately confessed his and his people's corruption. Like Jacob, the divine Stranger wrestles with us and refuses to be manipulated into our self-indulging puppet or cynical sin insurance card. We need to confess our failure.
But God wants to forgive us. God longs for us to experience that "safe connection" that van der Kolk calls "the single most important aspect of mental health."
The most dramatic example of this unconditional divine desire is Jesus's dying breath. Jesus's followers had abandoned him. Religious leaders, government authorities, and the crowds joined together into a jeering chorus that mocked his powerlessness. Jesus had seemingly lost everything except the shattering pain surging through his dying body.
And yet, Jesus doesn't invoke God's just judgment or damn them to hell. He cries out, "Father, forgive them for they don't know what they're doing." Jesus lets go of his excruciating pain and holds on to these murderously misguided people. In this way, God's mercy absorbs and overcomes violence, and the cycle of retribution is broken for our salvation (Luke 23:34).
If God can forgive Jesus's killers, who can't God forgive?
And so Jesus invites us to confidently ask our Father to forgive our sins, just like we ask for our daily bread. No matter what we've done or how bad it's gotten, we don't need to be imprisoned in our past or consumed with guilt. That safe connection is still available to us. We can surrender our innocence, confront the voice that says, "You are no longer worthy!" and be set free to begin again as God's beloved children.
The greatest challenge here may be learning to forgive ourselves. The shame of what we've done or failed to do sticks to our insides like glue. The inner voice insists that we are unworthy of forgiveness and that our failure defines us. Perhaps God forgives me, we say. But can I forgive and accept myself?
We see afresh here how immersively bathing in our divine belovedness is essential to our healing and flourishing. We need to doubt our doubts and disbelieve the certainty of the voice that insists we're condemned and finished. The waters of our divine baptism are powerful and can wash away the poison of our self-rejection. The unconditional Voice from heaven interrupts shame's voice and declares, "I forgive you; you are my beloved child, and I still delight in you." With time, this heavenly Voice can come inside, and we can learn to accept that we're actually accepted.
With his healing hilarity, Desmond Tutu tells a clever parable of a man trapped in his shame. The man comes to God and says, "I'm sorry, I've done it again." But God asks, "What have you done?"
Tutu explains, "God suffers from amnesia when it comes to our sins. God does not look at the caterpillar we are now, but the dazzling butterfly we have it in us to become." Despite his acute familiarity with human evil, Tutu concludes,
"There is nothing you can do that will make God love you less. There is nothing you can do to make God love you more. God's love for you is infinite, perfect, and eternal."
This unrelenting forgiveness is how fiercely committed God is to our flourishing. According to Jesus, all we need to do is honestly ask – and it's finished (John 19:30).
*** Excerpted from Andrew DeCort, Flourishing on the Edge of Faith: Seven Practices for a New We (Washington, DC: BitterSweetBooks, 2022), 92-94. Available at BitterSweetBooks, Audible, Kindle,Barnes & Noble, and all major booksellers.