Dear friends,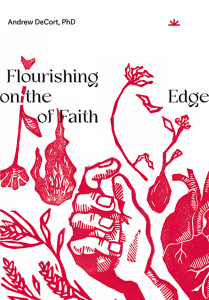 I'm delighted to share happy news: Flourishing on the Edge of Faith is at the printing press and should be available for purchase before Thanksgiving later this month. I hope this book is a meaningful companion for you and a beautiful gift for friends during the Christmas season. To receive release updates, kindly signup here.
Today I'm excited to share Flourishing's Preface with you. It's only four pages long, but it articulates why this book matters to me and who was in my heart as I wrote it. My deepest desire for Flourishing is not so much to "influence" the reader but to make the reader feel at home and invited into a deeper flourishing through a fresh immersion in Jesus's practice of prayer. Download the Preface here and let me know what you think.
Lastly, Lily is brainstorming a book launch party for friends in Chicagoland. If you're in the area or feel inspired to make a special visit, please stay tuned for details.
Yours with gratitude and anticipation,
Andrew