Dear friends,
Sunday was an extremely special day: Flourishing on the Edge of Faith was launched out into the world for the very first time in public!
If you weren't able to make it or you'd like to revisit the conversation, the event is now available on YouTube. Special thanks to Eric Hoskins for streaming the event live on Facebook and for the 1,200 friends who joined us across the world!
If you'd prefer to read, I'll include a transcript of the conversation at the bottom of this newsletter with some pictures. If you took pictures, kindly upload them here to help us remember the day 🙂 Big thanks to David Johnson and Lauren Gross Frye for sharing your beautiful pictures!
We had a packed house, and I want to warmly thank the numerous friends – many long-enduring and some just-met – who joined us to make this day so full of joy! Gathering with you was a waterfall of encouragement to my spirit and vocation as a writer.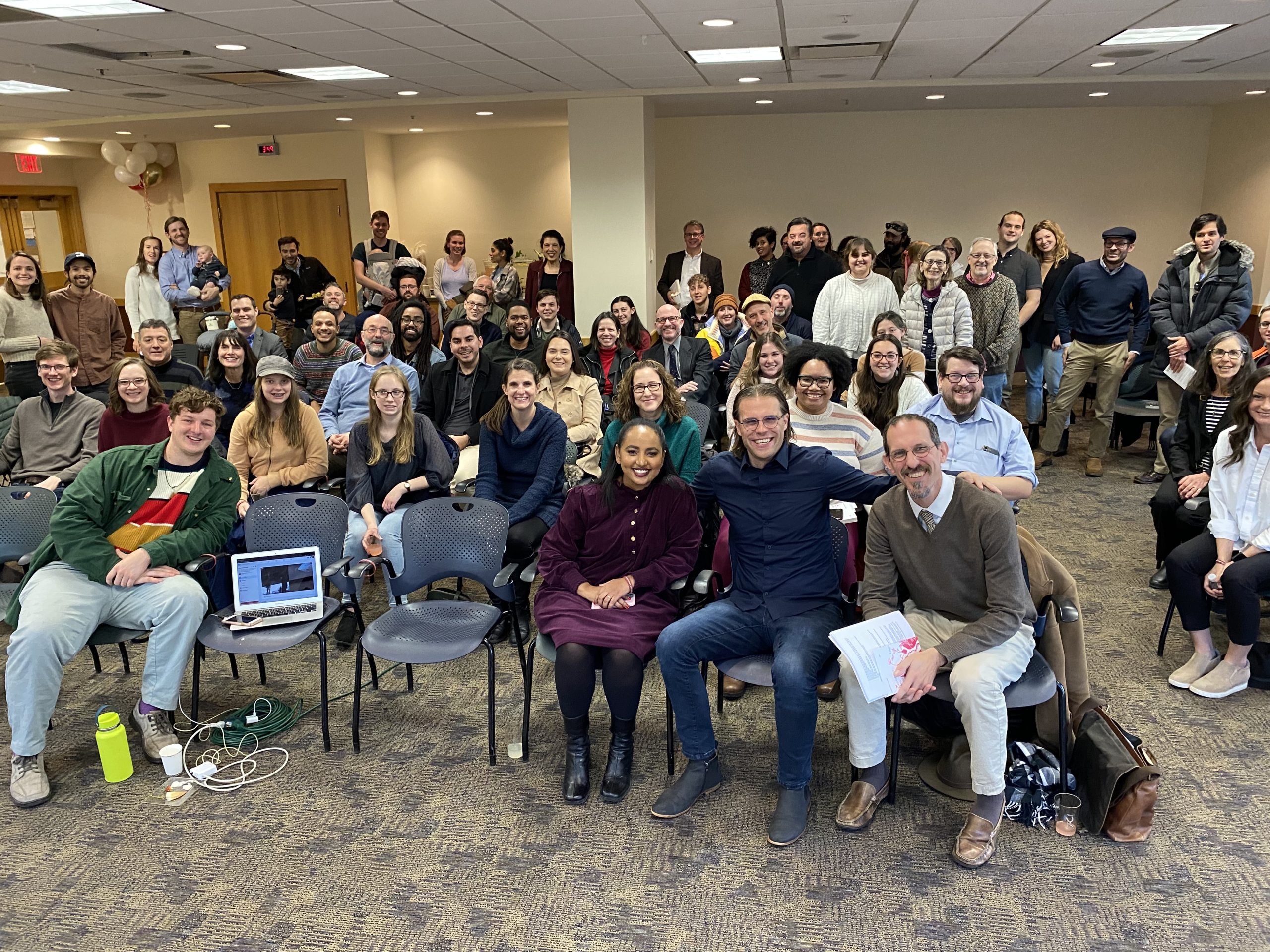 Special thanks for all of the beautiful notes that you wrote on the lovely framed book cover that Lily prepared for us. Lily and I have read each one, and we rejoiced and laughed as we savored your loving, witty words. I can't wait to hang this next to my writing desk and draw energy from your encouragement as I begin working on my next book What Is Christianity? Presence, Practice, Protest.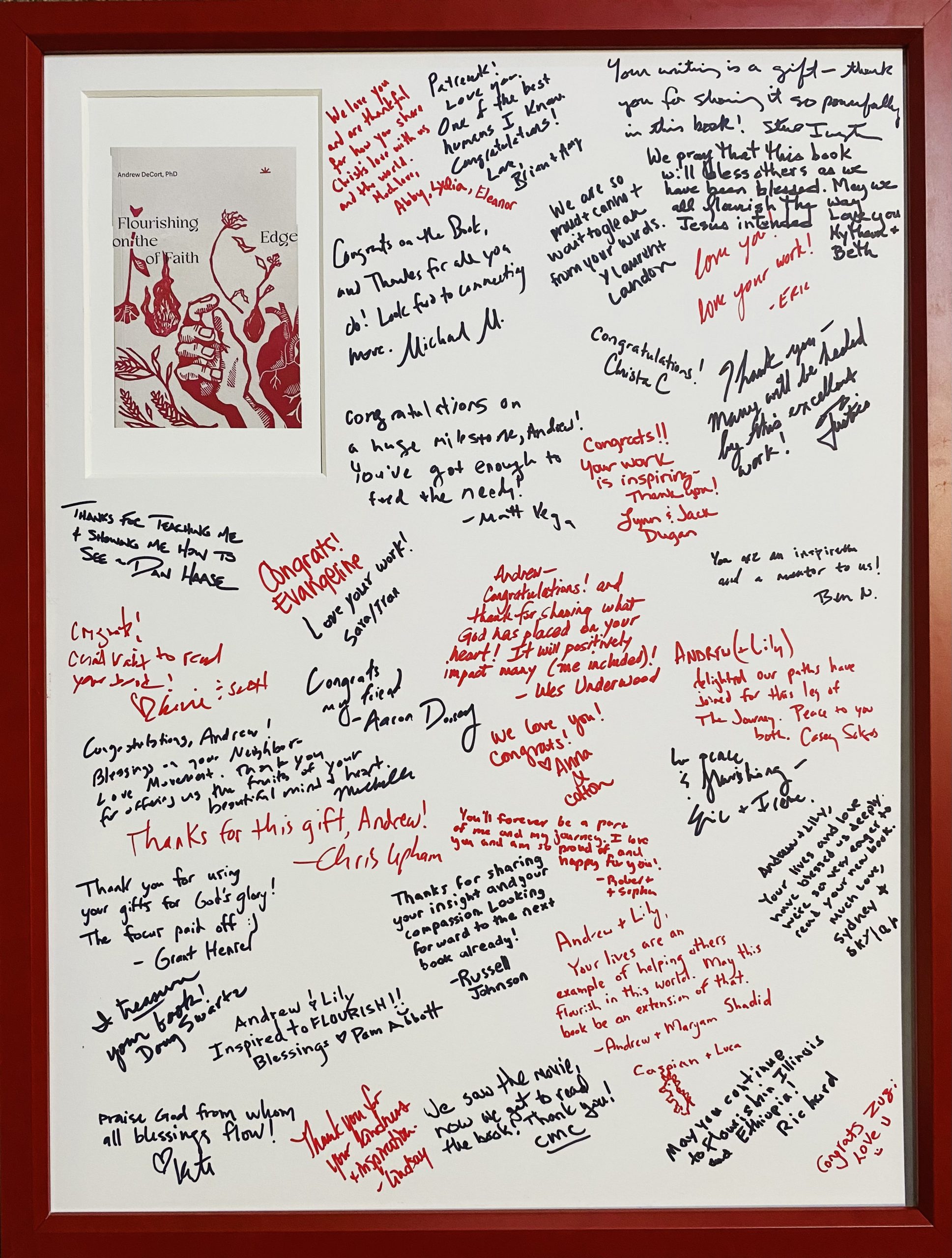 Special thanks to my beloved wife Lily for hosting this book launch party! Her beautiful decor made the room feel like a cozy living room; her feast was delicious and abundant; and her speech touched my soul. Lily and I want to thank Susan Shadid for generously collaborating in the planning and execution of this gorgeous celebration. We love you, Susan!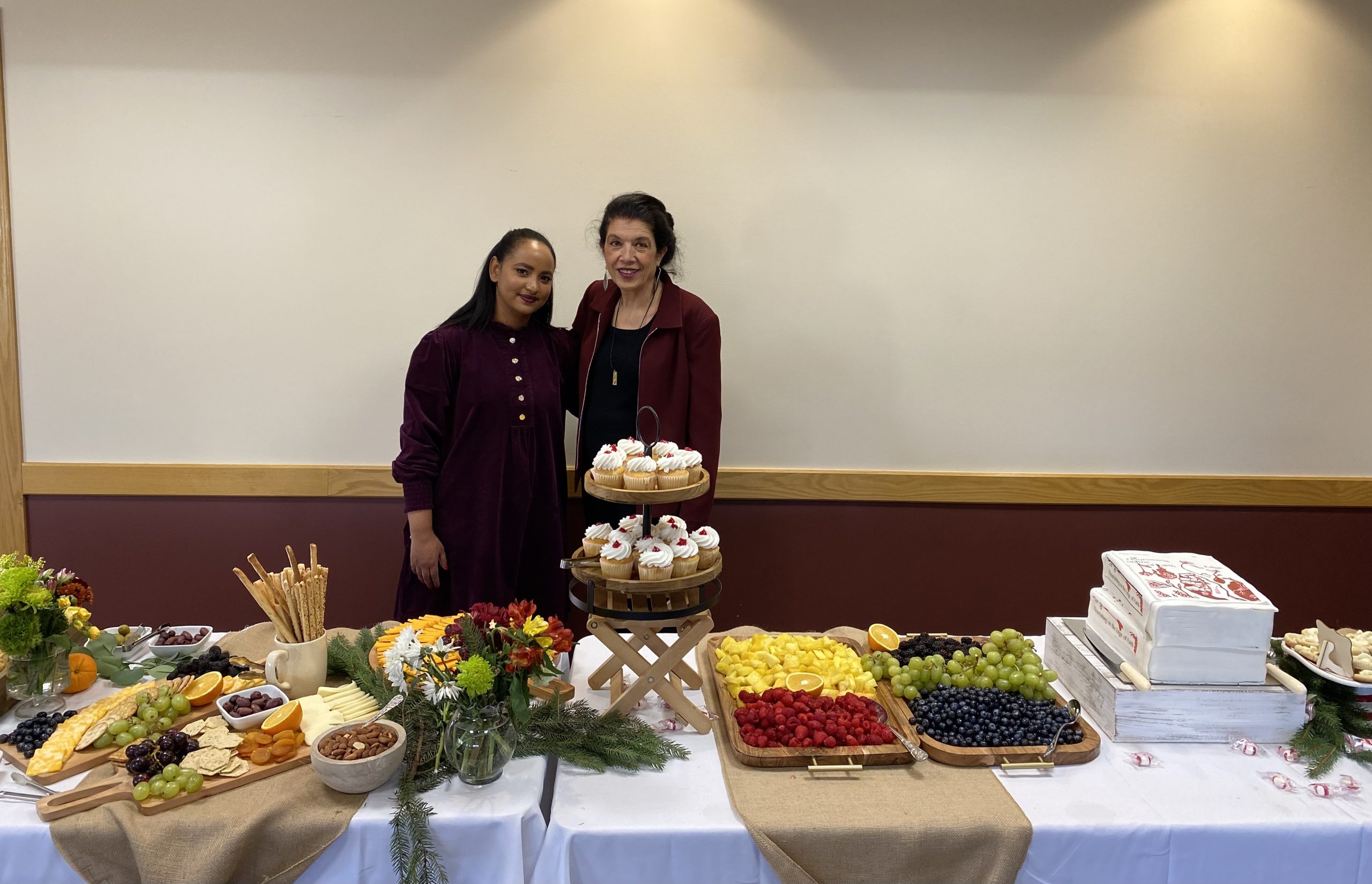 Many of you showed up early and stayed late to make this sacred day possible, and we want to thank you from the depths of our hearts: Dr. Steve Ivester, Kate Schmidgall, Susan Shadid, Chris Upham, Eric Hoskins, Professor Dan Haase, and Anna and Colton Bernasol.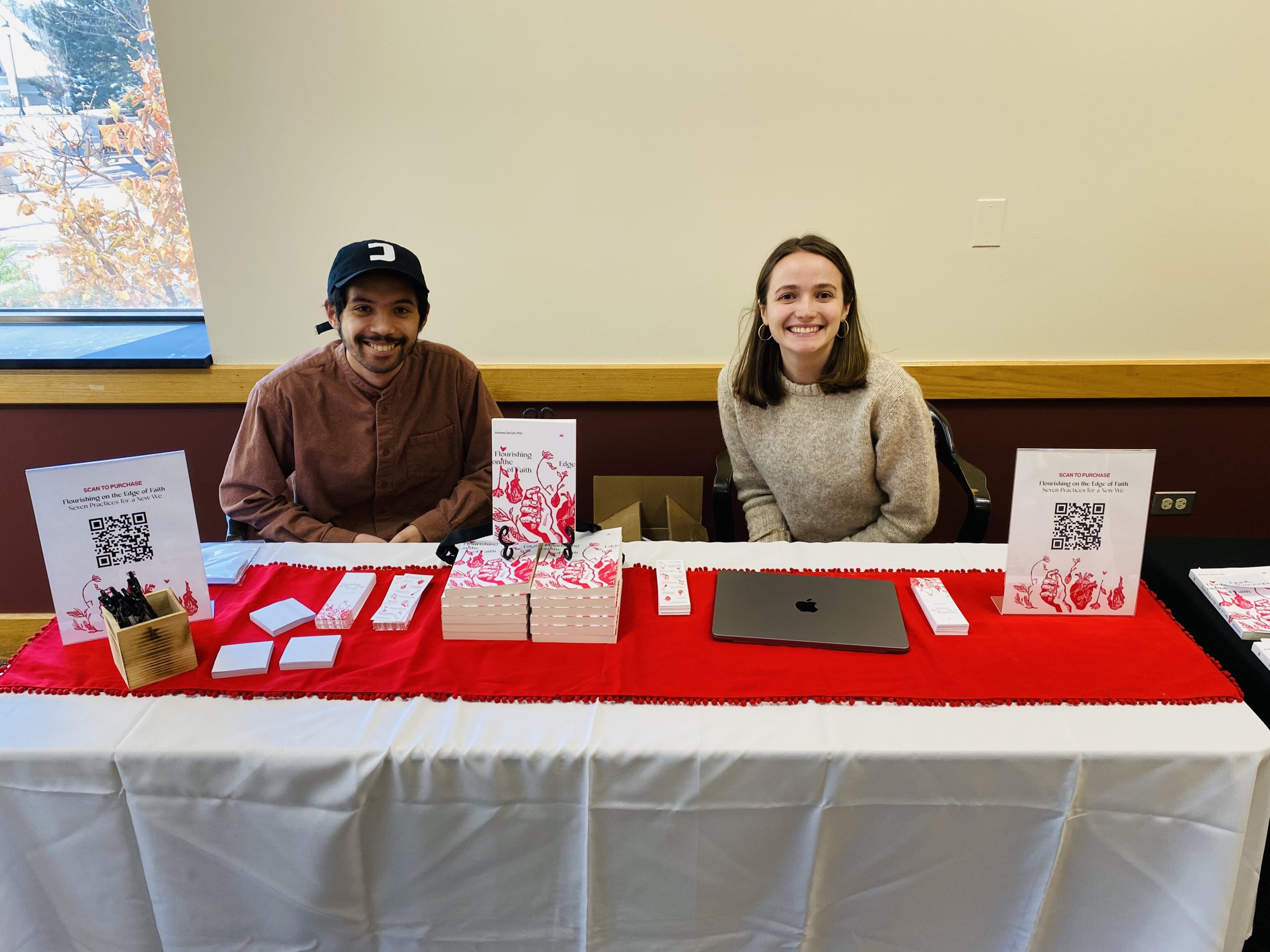 Signing your books was such an extraordinary honor and joy for me! Thank you for pausing at the book table to share words of encouragement! I was flooded with gratitude hearing how my writing has touched your life.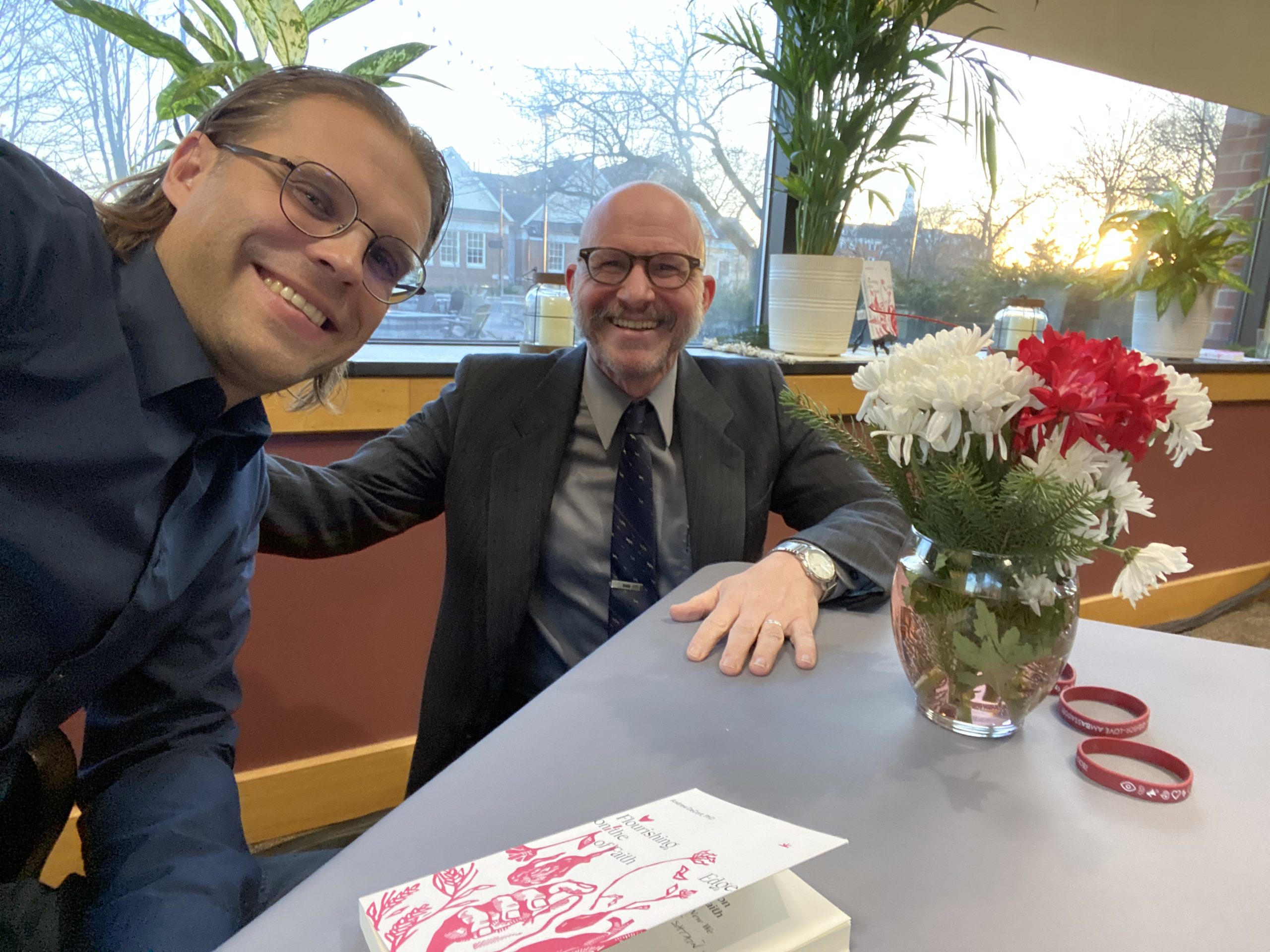 Dear friends, I'll cherish this day for the rest of my life. Please know that your presence and love were received as a sacred gift! If you're a donor to the Institute for Faith and Flourishing, please receive our special thanks for making this book and our work possible. I hope and pray that Flourishing on the Edge of Faith will be a valuable companion for you in your journey of faith.
If you'd like to order extra copies, the Publisher's Edition is available for order with BitterSweet Collective, and the paperback and ebook are on Amazon. The audiobook, read by yours truly, is coming soon! Special thanks to Genesis Orthopedics and Sports Medicine for buying copies for your entire team!
Yours with overflowing joy and gratitude,
Andrew
TRANSCRIPT: Chicago Launch of Flourishing on the Edge of Faith | Wheaton College on December 4, 2022 
Host's Welcome | Dr. Steve Ivester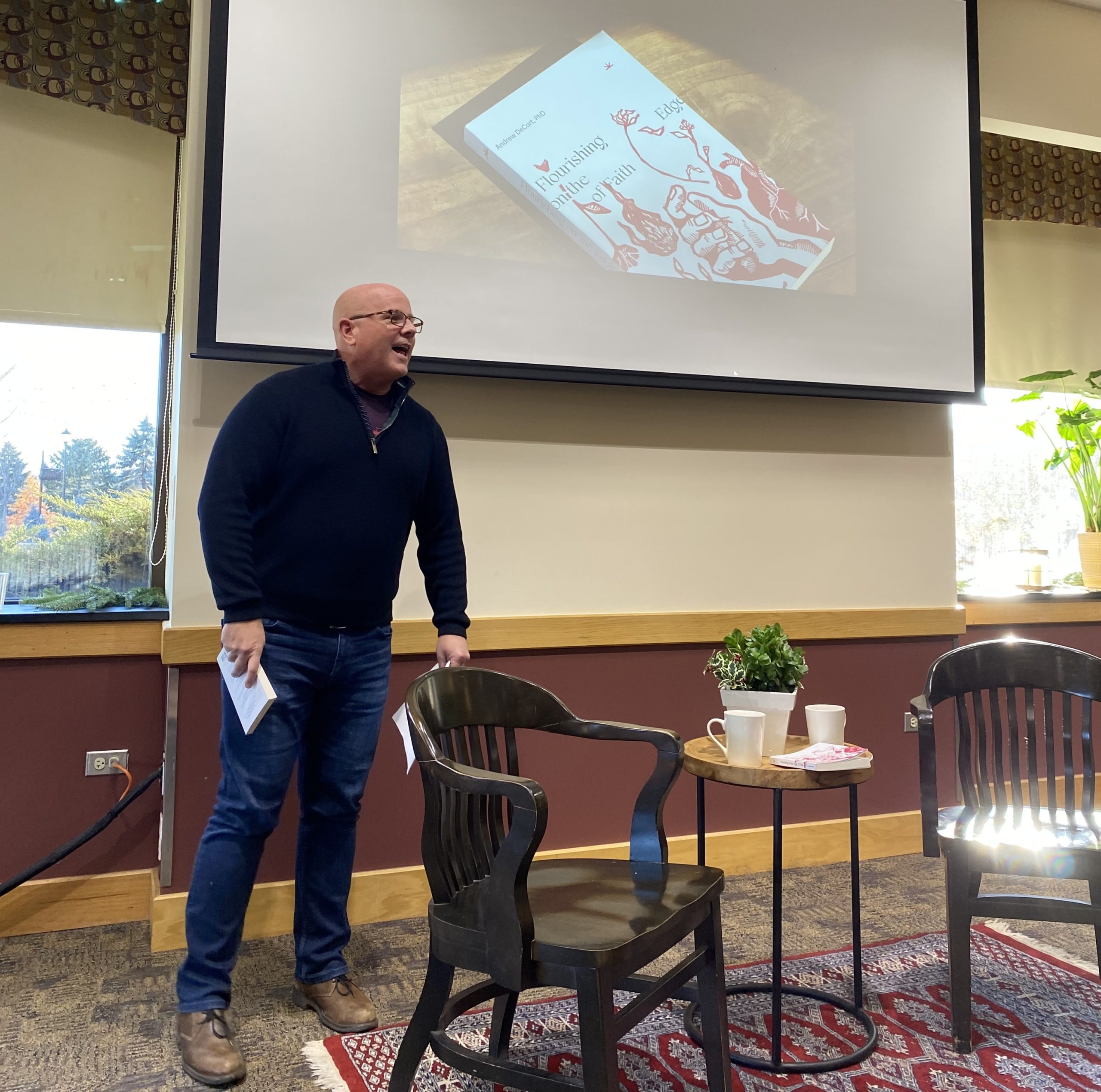 Friends, welcome! We are thrilled to be together today. I know how important each of you are to Andrew and Lily, and how special it is for them to have you present for this occasion.
My name is Steve Ivester, and I serve as a board member with the Institute for Faith and Flourishing, which oversees Andrew's writing and the Neighbor-Love Movement in Ethiopia. I also serve here at Wheaton College as the Dean for Student Engagement. I had the privilege of getting to know Andrew through a program we started back in 2013 with some colleagues called "Authority, Action, Ethics: Ethiopia" – an immersion cultural experience.
I love Andrew. I love what he stands for. I love what he does. I love who he is. And I love this book. I think we're all excited to be here for that reason and to celebrate the launch of Flourishing on the Edge of Faith: Seven Practices for a New We.
I want to say thank you to Lily DeCort for hosting this party. Thank you, Lily, for this amazing spread of food and the hospitality of the room. We're blessed by your care for us and inviting us! And thank you to Susan Shadid, a delightful collaborator in planning and pulling this together. There were quite a few friends who came early to help us setup; thank you!
We're going to begin this book launch by inviting Kate Schmidgall, Andrew's publisher and the founder of BitterSweetBooks, to tell us a little bit about this book. After that, Andrew and Lily have some words for us. Then we'll have an interview with my colleague Dan Haase, who's the Chair of the Christian Formation and Ministry Department here at Wheaton College. Then we'll have a Q&A with the audience and you'll have the chance to buy the book!
Publisher's Remarks | Kate Schmidgall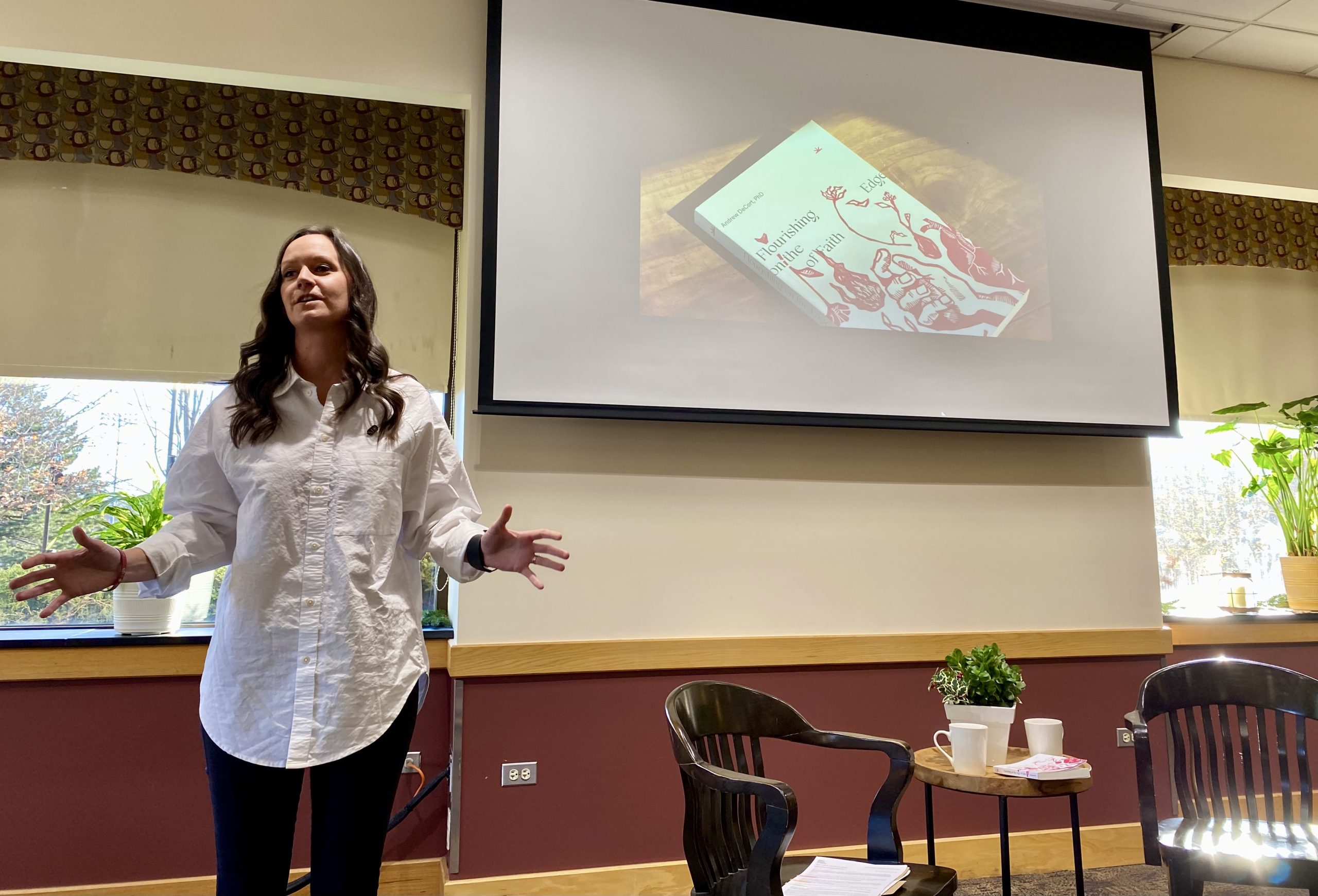 Hello everyone! My name is Kate Schmidgall. As the publisher, I'd love to say that if you want to buy five books, you're welcome (laughs). This is an absolutely momentous occasion. I'm extremely proud that Andrew is BitterSweetBook's first author and that this book is our first book.
It was November 2, 2021 when I and likely many of you received an email from Andrew and Lily. They were announcing that they were relocating to the United States after a long time in Ethiopia. With the support of the IFF board, they made this transition, in part, so that Andrew could focus on his writing.
In that email, there was a link. Did anyone else click it? It was an outline of thirty-six books that Andrew has inside of him and that he has been long nurturing quietly behind the scenes. This first book was based on Jesus's prayer, the one that begins "Our Father" and outlines seven practices for flourishing and living faithfully.
When I read the synopsis of that first book, something like a wave of certainty and clarity came over me. For the record, I've only experienced that twice before. The first was when I decided to marry my husband. The second was when I decided to start BitterSweet. This was the third time that that certainty and clarity came, and I knew that BitterSweet had to publish this book.
I think that in this long, ugly season of upheaval and vitriol, in a war-filled year, after two years of pandemic blur, it seems to me that the weary faithful need a summons. It seems to me, Andrew, that the soulful sojourners – the ones that we nurture out in Washington, D.C. – need a warming fire somewhere out there in the wilderness as they're beginning to navigate a new wilderness of belief, a wilderness of belonging. This book is that: it's a warming fire where wanderers can gather round and be encouraged and find one another in their seeking on their journey.
I know this is true because when I invited Andrew to D.C. in February or March of this year to meet the BitterSweet community and the community to meet him, no less than a dozen creatives raised their hands and said, "I have to be part of this project! Whatever you need, I want to participate." Before we had a proforma, before we had a business model for how BitterSweet publishes books, we had a team of more than a dozen professionals willing to say, "My photography, my film-making, my writing, my editing, my design, my illustrating, my audio production skills – I offer."
That's how I know that this is deeply resonant and that it's not just me, the publisher. It's actually a community – all of us seeking to live faithfully and finding a lot of encouragement and direction in Andrew's work. It is my joy to be here today and to welcome you all to this launch.
Flourishing on the Edge of Faith is already nurturing our weary souls in Washington, D.C. Even for those of us who have read it, edited it, produced it many times over, we're reading it again, listening to it again. (An audiobook version will be available shortly.) This is a book that helps us see a path – a path forward, a path of faithfulness. It also orients us to the work that is ours to do in the world, a healing work for our generation in particular, I think. This is a book that orients us to our neighbor. That orients us to a radical self-giving. That calls us out of our own self-concern and even out of nihilism if we're tempted in that direction. This is a book that gives us practices and a path.
It's my joy to say that many of you in the room have already lent your support, encouragement, endorsements, and resource to the work of writing this book. We want to say thank you for that. It seems appropriate to read just a few of those endorsements of those who are in the room to further celebrate the community work that this is.
Before I do that, I want to say that the community that I'm a part of really trusts this work, in part, because we trust Andrew and because we see him as a man of courage, boldness, integrity. We see in Andrew and his work the conviction of an ever-expanding, ever-transforming love of God that can meet anyone anywhere at any time and call them to a deep intimacy and knowing and being known. His is a passion that burns white hot, and we recognize that and respect that. And so it's my pride and honor to be your publisher and to stand with you in this work!
With that, I will read from a couple others who have lent their lives in some way to encourage Andrew in this writing endeavor.
Grant Hensel is the founder of the RoundUp App and Nonprofit Megaphone. Grant is also an Institute for Faith and Flourishing board member. He wrote, "I think of Dr. Andrew DeCort as the C.S. Lewis or Dietrich Bonhoeffer of our time. His writing provides rare and breathtaking insight into the words of Jesus and shows how they have the power to help us reimagine every moment of our lives."
Dr. Sarah Borden Sharkey is Professor of Philosophy here at Wheaton College. Sarah wrote, "Andrew DeCort has given us a rare treasure in Flourishing on the Edge of Faith, transforming that which so often becomes rote into a tool for renewal. To unpack the heart of Jesus's teaching in those seven lines is a gift of tremendous worth."
Dr. Michael McKoy, Chair of Politics and International Relations here at Wheaton College, wrote, "Andrew DeCort shows that the power of Jesus's prayer rests on Jesus's first word: 'Our.' God is Our Father. We are we. From this, DeCort maps out Jesus's social vision against chauvinism, exclusion, and oppression."
This is the orientation that we're seeking, one that can turn us toward one another and pay attention to our we-ness – an orientation that sees every person as our neighbor and the radical self-giving and love of God that is ours to share, infinitely and indefinitely.
With that, it is my esteemed pleasure to invite Mrs. Lily DeCort – the brilliant, beloved, prodigious painter – to further introduce our author.
Andrew, thank you for letting BitterSweet be your publisher!
Author's Introduction | Lily DeCort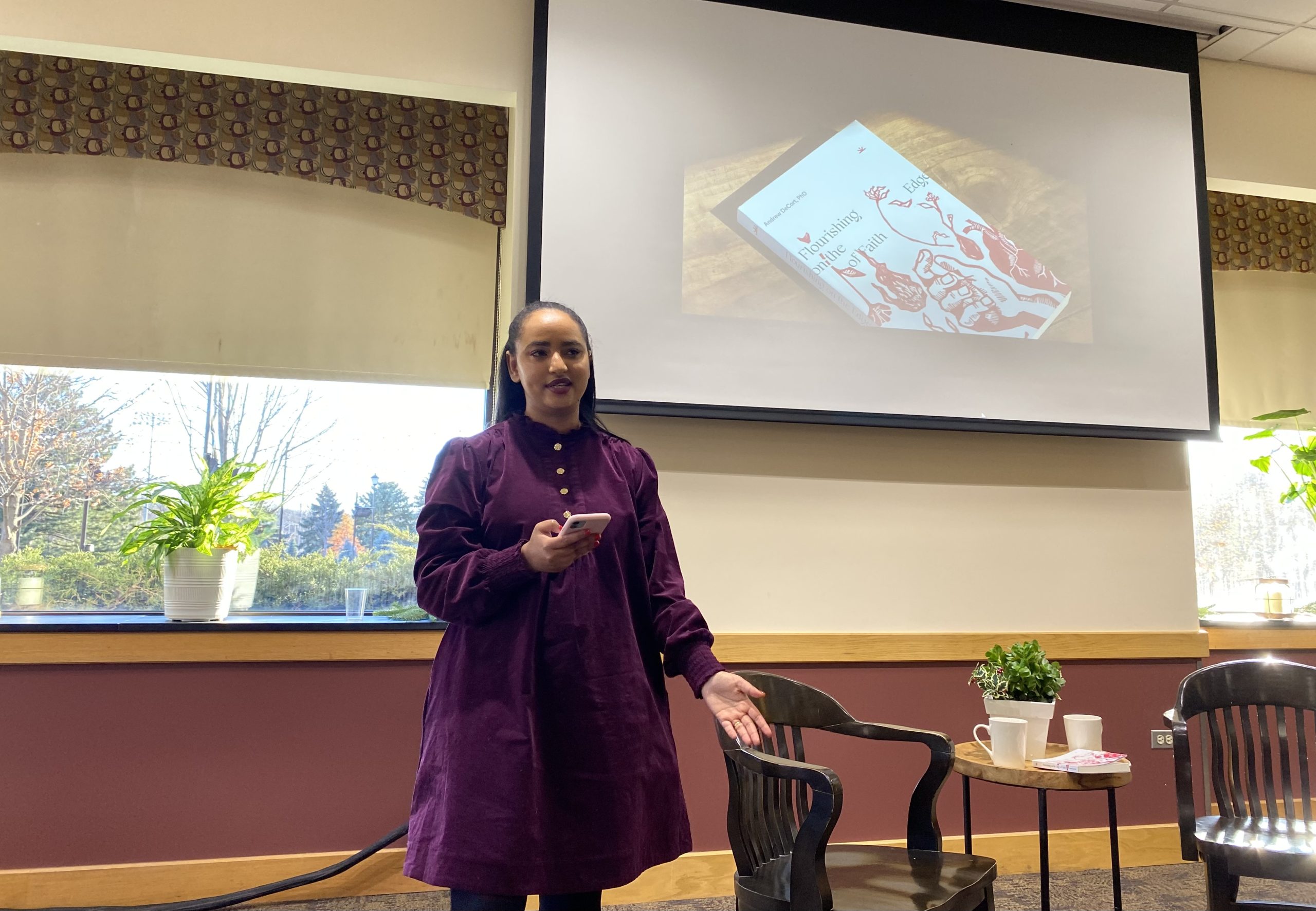 Kate, thank you for those kind words and incredible remarks. Thank you all for coming and being here. We're delighted that you came.
As you all know Andrew is my beloved husband, creative partner, and best friend. I am really so proud of him. I have seen him work really hard on this book every single day over the last year. He has poured his soul, his heart, prayer, discipline, commitment, and so much courage into this book. I've been inspired by his commitment to keep going.
I know writing this book has also taken a lot out of him. He had to dig deep and do a lot of inner work on himself like facing his fears and struggles as a writer. But I have been truly amazed and inspired by his courage and commitment to keep going every single day even when it was hard.
As most of you know, Andrew is an incredible writer. His writing comes out of his life of deep thought and careful listening. I was the first person to read Flourishing on the Edge of Faith, and for me personally, the book has helped me rediscover the Lord's Prayer in a much more meaningful and profound way. I hope it also inspires you like it has inspired me.
Andrew, thank you for staying true and strong in exploring your vision, your voice, your heart and mind and for sharing it with the world. Calling this book groundbreaking is an understatement. I see it as the best book ever written – but I'm biased (laughs). You are loved and celebrated and cherished, and I encourage you to keep writing.
Lastly, I want to thank the board of the Institute for Faith and Flourishing, Kate Schmidgall, and the entire BitterSweet team. Your collaboration and care for Andrew and this book have been excellent and life-giving. We celebrate you and your achievement as well today. Big thanks to Susan Shadid for helping us orchestrate this party! Thank you!
I'm now delighted to invite our author to come and share briefly from his book.
Author's Thanksgiving and Reading | Andrew DeCort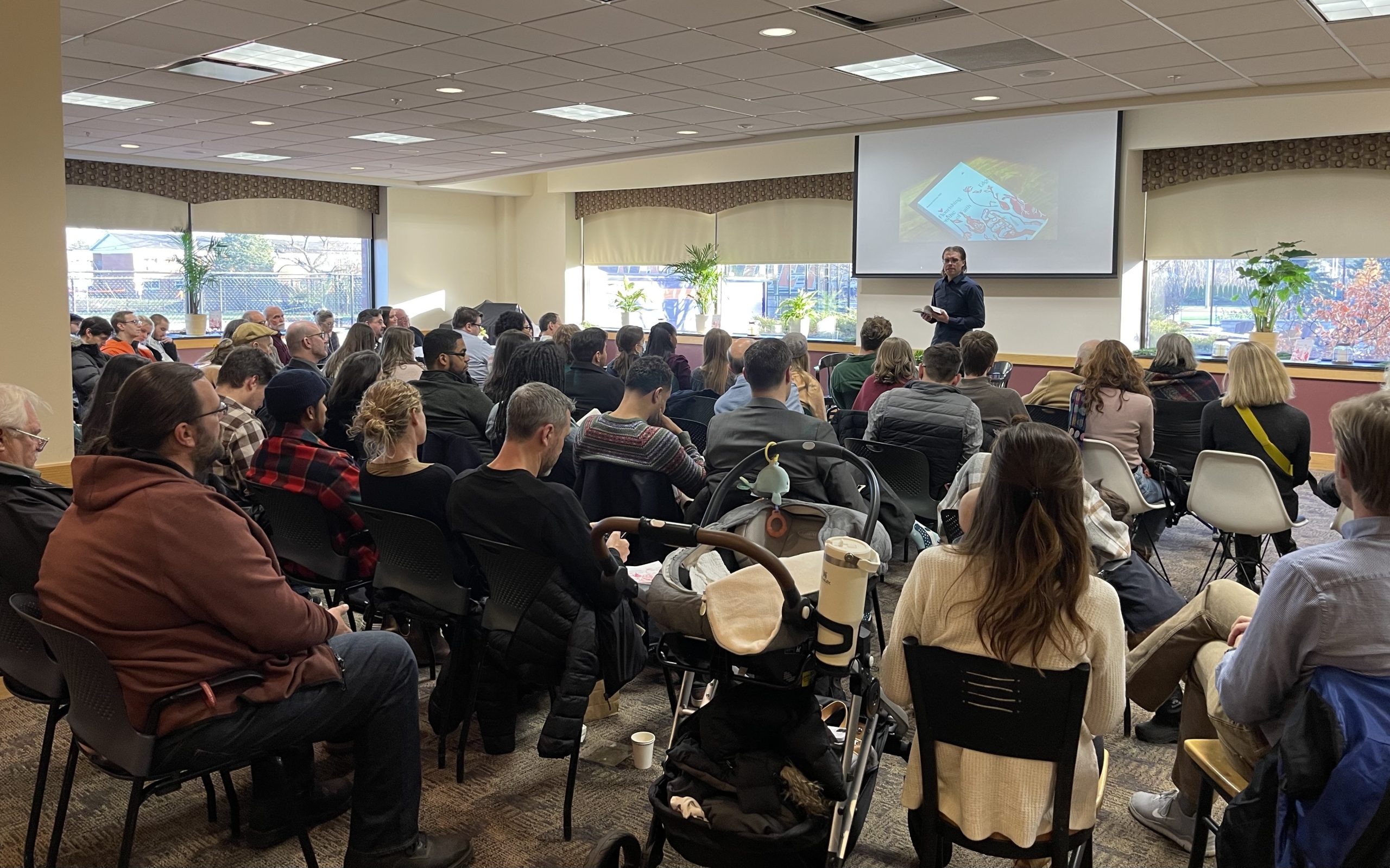 Friends, this is a special day. I'm so delighted to see each one of you. I'm looking around this room, and there's explosions of joy happening inside of me. I've known some of you most of my life. I've met some of you recently. And there's so much joy and gratitude that's welling up inside of me. I'm blown away.
After years of gestation and a full year of active labor, this book is being born in public for the first time today.
Your presence here with us is a sacred gift. I've been given ten minutes, but I could talk for ten hours simply to express my gratitude for you and the extraordinary way that you have encouraged, inspired, and empowered me to reach this day. You've all made this book possible in your own way, and I always feel like it's a lie when there's just one name on the spine and cover of a book. As Kate said so beautifully, this has been a community effort from start to finish.
Please allow me to mention just a few of my many thanks, and kindly let them represent many others who are held close in my heart.
Lily, thank you for being the unwavering champion behind this book. You were the first person to hear my vision, and you encouraged me to pursue it. When I delayed, you asked me that gentle but catalyzing question, "When are you going to start writing that book you told me about?" (laughs). When we returned to Illinois from death threats amidst Ethiopia's civil war, you told me that you ached for me write, and you encouraged me every single day of the writing process — with your healing presence, loving words, nourishing meals, affectionate kisses, glasses of water (Lily always tells me to hydrate; I stop eating when I'm writing so she brings me food), thoughtful feedback, and many other ways. You have tirelessly shared my lows and highs. Writing while you painted was one of the greatest joys of my life; I love the sound of your paintbrush dancing on your canvas. Our space sounded like click-click-click and swish-swish-swish (laughs). Your luminous paintings have given my soul new eyes, new light, hope, trust, and intimacy with God that have energized my writing like never before in my life. Thank you for loving me so radically, so tenderly, and so faithfully. And thank you for hosting this beautiful, delicious, love-filled party. And thank you for celebrating my life with so much commitment and sacrificial love. You're my gift from God, best friend, brilliant painter, and model of the fierce flourishing my tries to describe. Yeegziabiher setota nesh, yene fiker. Afikershalehu eska zelalem ::
Special thanks to Dr. Steve Ivester, Dean of Student Engagement here at Wheaton College, one of my best friends, a colleague that I respect to the moon and back. Steve is hosting us here today, and I want to say thank you to you, Steve.
I also want to say thank you to say thank you to Susan Shadid for collaborating with us in designing and throwing this party. We're so moved by your generosity; thank you so much!
I want to thank the board of the Institute for Faith and Flourishing: James Hoey, Liz Brown Evans, Grant Hensel, Lily DeCort, and Steve Ivester with our brothers Joe DeCort and Dan Boyce. Your enduring friendship, wise counsel, critical accountability, and generous giving have made this book possible and significantly better than it would have been if I were writing it by myself. I remember Grant saying, "You're trying to do too much. Focus on the book!" Thank you for being my most trusted leadership.
Deep thanks to our beloved IFF donors. You love us, pray for us, and made this book possible with your financial generosity. If you are a donor to IFF and RSVPed for this event, please look for your complimentary copy as a small expression of our gratitude for your partnership. If you don't see your copy, it's coming in the mail. Some of you generously protested and said you want to buy the book. You're welcome to buy more copies, but please accept this gift as an expression of thanks for you sustaining our work. We need you, we love you, and we thank you.
I keep seeing people here that I want to specifically thank!
Deep thanks to my beloved brother and co-director of the Neighbor-Love Movement in Ethiopia, Dr Tekalign Nega. Tekalign is in Addis Ababa, but I wanted to acknowledge his presence here today in my heart. Thank you for embodying that neighbor-love is possible even in the worst war zone. I'm so moved by Tekalign's leadership. He's a peacemaker.
I want to thank my closest friends for their enduring love. You have shared presence and spoken words of encouragement that grounded me, guided me, and gave me oxygen to press on. You know who you are, and I am eternally thankful to you.
Deep thanks to the many individuals who generously reviewed and endorsed this book. I dared to test this book's authenticity by sending it to many people I massively admire but who may not always see things the same way that I do: a Jewish professor that I respect deeply, Michael Fishbane; a groundbreaking Muslim community organizer, Eboo Patel; an atheist philosopher who specializes in dehumanization, David Livingstone Smith; one our our country's foremost public commentators, Peter Wehner; the journalist I respect most in East Africa, Tom Gardner of The Economist; and several of my mentors. The endorsements that came back blew me away and touched my heart with their kindness. I wish to express my deep thanks to all of you and special thanks to endorsers who are present here today. Your words touched my heart deeply and have empowered this book. On behalf of all the endorsers who are here today, I'd like to say a special thanks to Eric Elshtain. He's the son of my PhD advisor, Dr. Jean Elshtain, who made a tremendous impression on my life. Seeing Eric and Irene here today is the greatest privilege and honor, and we celebrate and honor your mom today. Thank you so much!
Jesus said the last shall be first. Kate Schmidgall is my champion of a publisher at BitterSweetBooks and my dear friend of over twenty years. When I started writing this book, I didn't have a publisher. But I had a whiteboard next to my writing desk, and I wrote on it, "Kate Schmidgall – BitterSweet?" (laughs). It was present with me as I was writing. I went out to D.C. on February 11; Kate had asked if we could have a conversation and generously flew me out. I could describe this day in detail. But I sat down, and Kate had some of my most favorite books on the table. She had a description of the values that would guide our publishing process. She had a plant for print, for digital, and audio. When Lily and I transitioned from Ethiopia, I was craving – soul craving – collaboration and beauty and someone who would pull work forward that I had no idea how to do. Kate showed up and has done that – long before February 11 but starting on February 11 in an extremely special way. And you have not stopped, Kate. You've blown me away with your prophetic vision, your elegant professionalism, your radical trust, your tireless commitment to learning, your super-abundant generosity. your attention to the smallest details, your seamless integration of gentle care for me as your author and strong leadership to achieve the highest level of excellence. I am in awe of the way that you reject cynicism, defy apathy, and celebrate good every single day and in the thousands of steps that went in to publishing this book. It's wild how much goes into making a little baby like this book (laughs). Publishing with you has been an answer to some of my most earnest prayers that I feared couldn't be answered. You are a sacred gift and have Lily's and my highest admiration and deepest gratitude. You are a blizzard of fresh powder and source of great joy. It's the highest honor to publish with you.
Lastly, Kate leads a team of extraordinary creative professionals at BitterSweet, and I'm overjoyed to thank them for collaborating in birthing this book – designers, artists, audio engineers, marketers. I'd like to thank my editor Peter Hartwig, who made over 700 edits on my book. Whoo, it was painful and exciting and made this book a lot better (laughs). Robert Winship (audio), Obi Okolo (design), Dave Baker (platforming), Sarah O'Malley (marketing), Holly Harris (artwork), Steve Jeter (film), Greg Sitzman (typeseting), and Lori Parkerson (promotion). Each of you played vital roles in making this book possible. Thank you for your trust, love, and collaboration.
Many more of you are named in the Gratitude section at the end of my book. Whether you are named or not, please know that I cherish your friendship.
The beloved author Henri Nouwen wrote, "Writing is a process in which we discover what lives in us… To write is to embark on a journey of which we don't know the final destination… I trust it will emerge as I write. I want to be free enough to live the questions of the spiritual life without fearing the consequences."
That is the spirit in which I tried to write Flourishing on the Edge of Faith. It is my deepest joy and highest honor to share this book with you today in public for the first time. I've selected two of my favorite moments in this book to read to you as we birth this little baby into the world.
The Dedication:
"For Jane, who birthed me in divine belovedness and taught me to pray with Jesus.
For Graham Smith, who first believed in my writing and invested many years ago.
For Dave Schmidgall, my pastor in exile: "You've got books inside of you."
For Joelle, Mark, Jenna, and Ty: our cherished eucatastrophe.
For Lily: my lover, teacher, painter, and Patronus.
Seeing your face is like seeing the face of God"
"You Are My Beloved Child" – please see pages 3-6 for this reading.
Thank you again for your presence here today. Thank you for empowering me to embrace my vocation as a writer.
And now it's my special honor to invite my dear friend and respected colleague, Dan Haase to lead us in a few minutes of dialogue. I was privileged to collaborate with Steve Ivester and Dan Haase in coleading the Authority, Action, Ethics: Ethiopia program here at Wheaton College for three years. Dan is now the Chair of Wheaton College's Christian Formation and Ministry Department. Dan is also a dear friend that I call The Pedagogical Zen Master and one of my favorite living poets. Thank you, Dan!
Interview with the Author | Professor Dan Haase and Andrew DeCort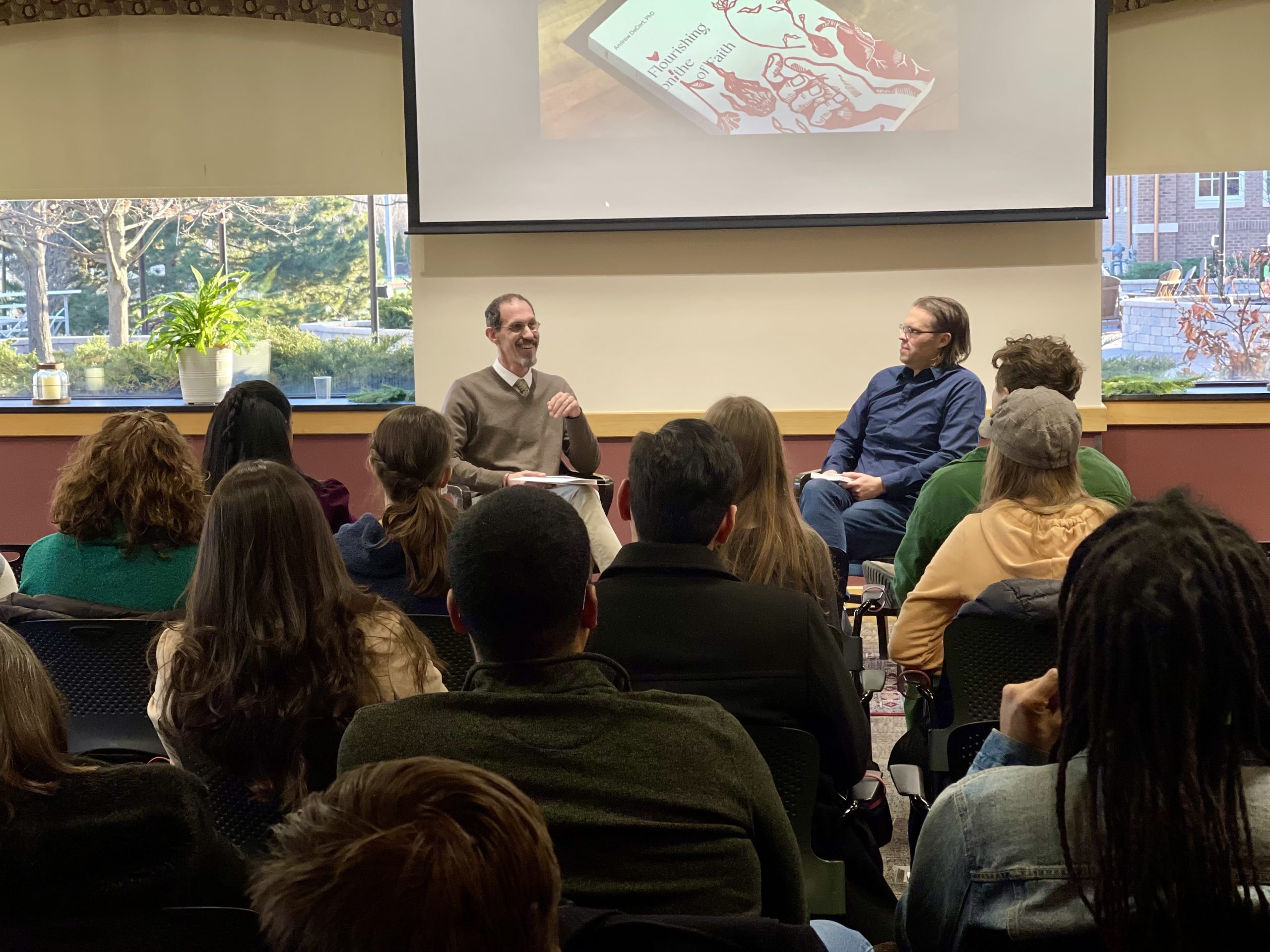 Dan: I'm going to set a timer, because otherwise it will be a long, long time (laughs).
This is an absolute delight for me. We go back a long time. The first time I ran into Andrew was at a coffee shop in Addis. If my memory serves me right, I think he was reading Plato in the Greek. And I remember thinking, "Who is this man?" (laughs). A deep friendship started as we engaged in this program together and walked alongside students. Andrew has been a teacher to me.
Why do I tell that story as I begin an interview with him? In reading this book and sitting with it, I realized as soon as I finished it that I read it too fast. The delight of that is that I can read it again, more slowly. What he's inviting us to do in this book is to slow down – not only to think and contemplate, which he does so well, but to invite us into the actual practice of a lived faith. To embody these prayers that are offered to us instructively through Christ.
I've often joked that I've known Andrew to be one who's head fell down into his heart and then out out his hands. He's embodied a mind of deep intellect which you'll encounter through this engagement of text. But this is deeply borne in the experiences of a life of faithfulness. I have five pages of notes, so thus the timer (laughs)!
At the beginning of this book, you write, Andrew, this is an invitation for those who are on the edge of faith seeking a life of flourishing. You use that term a few times. You say in the Preparation, "More precisely, this book is about what those words teach us when we pray them. This seven-line prayer – which so many of us can repeat with unthinking reflex – reflects a profound spiritual vision that was the core of Jesus's life and work. This vision can be captured in one simple word: flourishing." Later on in the book, you describe that this isn't just forming some kind of happiness machine where "me + more = flourishing," which is a good counter for us.
I'd be interested to hear, why the word flourishing? How would you define it?
Andrew: Thanks for those kind and lovely words. I love the word flourishing. It's in the name of our organization: The Institute for Faith and Flourishing. It's a word that I hear people use a lot. I think it's at the center of every human desire, and that's to be deeply and truly alive.
I've come to think of flourishing through the teaching of plants. Plants are these creatures that as they grow deeply rooted in the soil, they begin to reveal themselves. And the more they reveal themselves, the more their beauty becomes manifest to the world. But also the more fragile and crushable they become. These delicate creatures become extremely nonviolent and they're inviting our response to their presence simply through the sharing of themselves.
I think that plants can be pretty beautiful pictures for us of flourishing: of self-revelation that is deeply rooted – so this is not accidental. This is not a matter of luck or privilege. It's deeply rooted, going into the darkness. But as this flourishing reveals itself to the world more and more, a beauty and a fragility come together that is deeply, deeply resilient but is radically nonviolent and is a presence of peace.
That's part of how I understand flourishing, Dan.
Dan: One of the things that I think is so central to this text is the art. This whole thing is so beautiful! The organic nature of the images that are used to describe that natural progression is so core to Christ's teaching for us.
This ties into something so embodied in the way you tell these stories. Books are a collection of ideas that grow out of a context and a story. What's the story that comes before there was this book? You've alluded to that in the thanks and the gratitude to the people in this room. But books are more than ideas, and I know some of these stories – the calling on your life, your experiences in Ethiopia. What's the story before this book?
Andrew: There's many roots in this book, Dan. When I was twenty-two years old, I moved to Ethiopia for the second time. A few days after I landed there – this was two years before I met Lily – I remember hearing the rattle of machine gun fire in the city. And we learned after that that the police had killed about two hundred people in a public demonstration.
That violent event dismembered the body politic in Ethiopia in a very violent way. I remember being deeply disturbed by the fact that the churches in Ethiopia had little or no response to that event. That's when I began going to the University of Chicago and studying with Eric Elshtain's mother, Jean Elshtain, who was an extraordinary ethicist. I asked this question, "What is the relationship of human life to our experiences of being human that are often filled with suffering and hardship and loss and weeping?"
When Lily and I returned home from Ethiopia in 2021 and I sat down to start writing this book, Dan, I was receiving so many death threats for our peacemaking work with the Neighbor-Love Movement in Ethiopia, which were coming very close to home and were very disturbing. People threatened to throw me off a bridge, to run me over with cars, to butcher my body. We lived near a big bridge in Addis by a main road in a neighborhood full of butcher shops.
I started to ask, "What is the spirituality that can sustain our flourishing through these high-stress, highly disturbing events in our lives?" It may not be political. It could be a health event or family crisis or a loss of love or a crisis of faith or a struggle with mental health. What is a spirituality that is robust enough to sustain our flourishing in these most challenging events in our lives?
Jesus's prayer has been my daily meditation for the last twenty years. The specific movements of Jesus's prayer have been sustaining to me. I remember nights when Lily would put a huge flower pot behind our apartment's front door in Addis so that if someone tried to break in to our apartment, it would tip over and we would hear it smash so we could try to call somebody for help. The prayer that I try to unpack in this book has sustained our pursuit of flourishing through these challenging situations.
Those are pieces of the backstory.
Dan: Let me play off that a little. You use this line a couple times in the book: "When we love our enemy, we become the enemy." This is the challenge of living in this space.
What's beautiful about this text is that it's not just an idea of Christ. It's the experience you're having of seeking to workout that ethic in your own life, which makes it so real. You do this through practicing this prayer – the Lord's Prayer.
Why would you say Jesus's prayer and his ethic in that prayer so compelling and appealing? Could you describe this journey through the prayer? What's your two-minute elevator pitch for what this prayer is? Let me highlight, first, that Andrew titles these chapters in helpful ways breaking down the Our Father:
Chapter 1 is answering the question, "Who is God?" Our Father who is in heaven.
Chapter 2, "How should we talk about God?" Hallowed be your name.
Chapter 3, "What do you want?" Your kingdom come.
Chapter 4, "How much is enough?" Give us this day our daily bread.
Chapter 5, "How do we begin again?" Forgive us as we forgive others.
Chapter 6, "Can violence save us?" Don't lead us into temptation but deliver us from evil.
Chapter 7, "Can you let go of power and prestige?" Yours is the kingdom and the power and the glory forever.
With that frame in mind, can you describe this practice of prayer and why Christ's ethic is so compelling?
Andrew: Integrity is the deepest desire of my life: for words and actions to match. I think that when we encounter the life of Jesus as recorded in his biographies, we encounter the highest level of integrity.
I think that Jesus received his divine belovedness, and that's why we see Jesus free of reactivity and aggression all throughout his public movement – even when he's in these high-stress, fight or flight situations.
Jesus speaks reverently of God. We never hear Jesus talk cheap of God. There's an extraordinary reverence that comes through every word that Jesus says about God. You know that God is never a sale's pitch when Jesus is talking about God.
The kingdom of God was embodied in Jesus's radical commit of giving his life to be with and for the most vulnerable people on earth. For Jesus, that kind of relationship is what the kingdom of God looks like at its core. That's not just how Jesus talked but how Jesus lived. And he became an enemy for that. He crossed the boundaries of acceptable religiosity and cultural patriotism.
Give us this day our daily bread: Jesus lived a life of such incredible simplicity. In a time of consumerism where we need more and more and more, we see Jesus living this life of generosity and sharing and sacrifice. His desire was profoundly trained.
Forgive us as we forgive: How do we start over? I don't know about you, but this question haunts me. Jesus is in the final moment of his life literally being lynched in public with people mocking him and saying, "God doesn't want you." And what spills out of Jesus are words of forgiveness: "Father, let them begin again. Hold on to these people. Don't damn these people to hell." That's radical flourishing: when you can be in your life's deepest pain and what comes out of you is a desire for people to be able to begin again!
Don't lead us into temptation but deliver us from evil: Jesus is about to be arrested before this crucifixion. And the man is so composed – not in a fake way! He's sweating drops of blood. He speaks about his distress. He says, "My soul is overwhelmed to the point of death." But, again, he's nonreactive. He's creative in his moment of greatest distress. He's not amygdala hijacked. His nervous system is in tune with the spirituality that he's been practicing in this prayer for at least three years. And so Jesus was able to practice nonviolence when I'm sure everything inside of him was raging to become aggressive and self-defensive.
And Yours is the kingdom and the power and the glory: This is my favorite, I think. You said it: we're happiness machines. We're all desiring to compare ourselves to one another and probably to achieve some level of power and prestige. And throughout Jesus's life he's constantly letting it all go. He's saying, "It's all God's." Jesus is not on an ego trip. I don't know about you, but I just love people who aren't egomaniacs. I feel like our public life is filled with egomaniacs right now. Jesus was able to say "Yours" and surrender that egocentric orientation to life, which I think is the mark of the highest flourishing. When you can journey from beloved through incredible violence with forgiveness and then let go with surrender and trust, I think that you're flourishing.
So why this spirituality is so credible to me, Dan, is because I see Jesus living it with integrity – not just saying it.
Dan: Oh, that's beautiful. That does capture it really well. What Andrew has put together for us to meditate on is a spirituality of integrity – of lives that match true words in action.
I'd be interested, what questions are there in the audience to be posed to our author?
Q&A with the Audience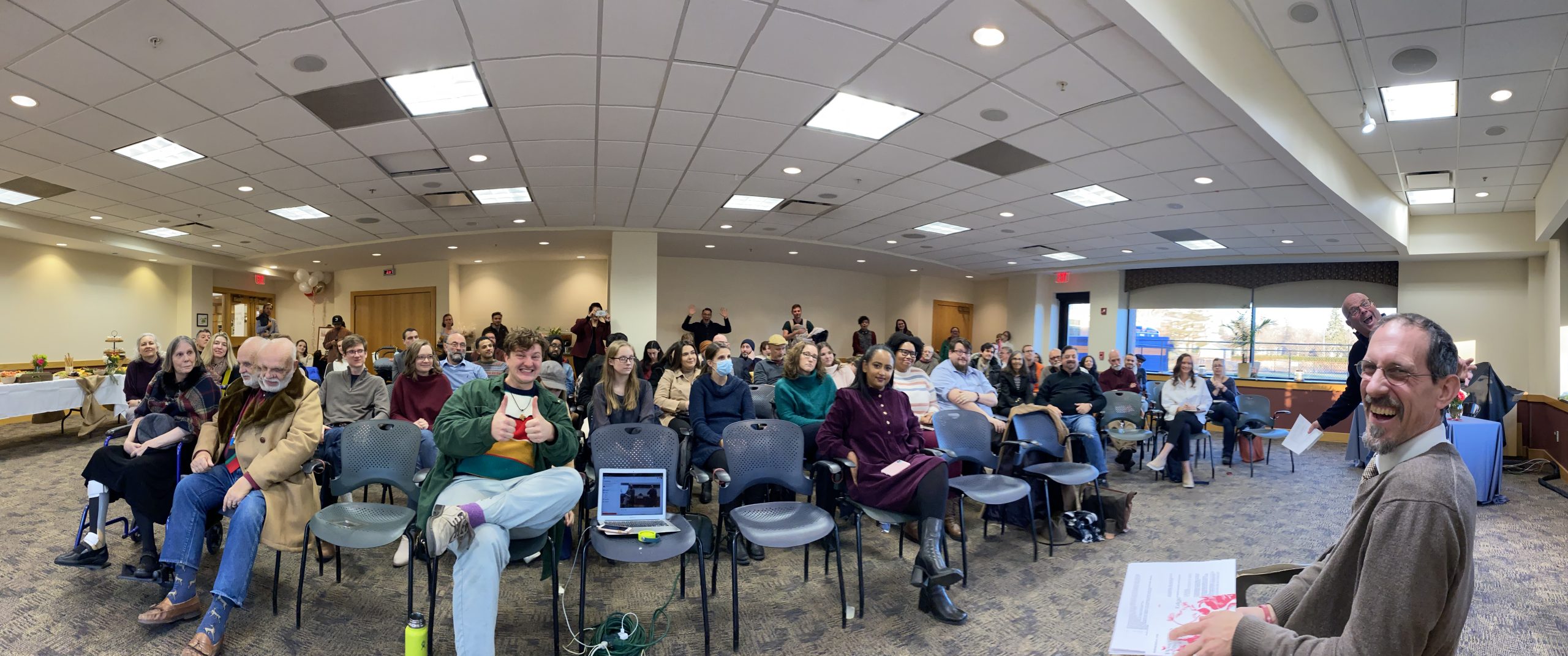 Professor David Lauber: I have a question about audience. You write that this is for people who are on the edge of faith. I know lots of people who think that they're at the center. They're very sure of their faith. They're sure that their doctrine is the right doctrine. They're sure that they grounded. What's your heart for them?
Andrew: I want to say thank you to Professor David Lauber. He was one of my professors here at Wheaton College, and I'm so honored that you came. Thank you so much.
We've already got Jesus's prayer downloaded. Whether a Christian a not, whether you pray or not, if someone says, "Our Father," you probably know what comes next. I hope that for those of us for whom these words have become so familiar, they might just spend a little time exploring what they mean with me – as best as I'm able to see – and see, "Oh wait, there's so much more here!"
I would say, David, that the second practice is especially important: "Hallowed be your name." I believe Jesus is tapping into an ancient stream of Hebrew spirituality in this second movement of his prayer that goes back to Jacob. He's wrestling with this divine being and says, "What is your name?" He doesn't get a name! In fact, he's made to limp forward, and he goes and embraces reconciliation with his enemy after that. Moses: "What is your name?" He gets this name "I-Shall-Be-Who-I-Shall-Be" – a name that he can't properly say or understand. Manoah and his wife in the Book of Judges encounter God again, and they say, "What is your name so we can honor you?" And the Voice that they hear back says, "My name is unknowable!" I think Jesus is brilliantly distilling this tradition of spirituality in the second movement of his prayer. So we start by saying, "Our Father," but then Jesus says, "Don't become too comfortable with God! Don't think that you already know who God is." And that's why we have to go through this radical reverence of saying, "Hallowed be your name." I sometimes think of it as the rumble strips of Jesus's prayer: just as you're getting into it, there needs to be a little disruption. That's a helpful practice for all of us who are so sure that we're in the center of our faith and we know who God is and we've got all of the answers.
Thank you, David.
Dan: I'll use some of your own words here. Early on you talk about prayer as a premeditation for practice. I think what David's getting at here is the distinction you draw out between habit and practice. You invite us to practice Jesus's prayer, writing, "Habit is what we repetitively do, whether we realize it or not and whether it helps us or not. But practice is what we repeatedly choose to do, whether we feel it or not. It's doing the same thing over and over again. Practice fully grown is flourishing." There's a challenge to those who might say, "I'm at the center!" This integrity as you talk about it is the invitation to this kind of practicing life.
If you pick up this book, it needs to be meditated on and then lived. Andrew has some very helpful appendices in here. There's reflections at the end of each chapter drawing in meditative experience that will lead into embodied expression. You're giving us a spirituality of that kind of integrity.
Olivia: First, I want to say many congratulations to you, Andrew. I'm so proud of all that you've done. As you've been talking about how to practice the Our Father, that got me thinking about how during the Covid-19 pandemic, a lot of us – myself included speaking personally – didn't really feel the sense of community. There was a lot of isolation, a lot of having to draw inwards. Were there any parts of this book that might have been informed by what you experienced during the pandemic and having to draw more inward?
Andrew: Thank you so much for that question. I think that this book has been deeply born out of silence and experiences of solitude. I have tried to turn off as much sound as possible and I've tried to befriend solitude. That became mandatory at some points during this pandemic that we're in. Reducing sound, reducing noise, reducing busyness and pursuing more stillness in which I could sink into each of these movements of prayer.
I think that the first one – "You are my beloved child" with "Our Father" – requires the most silence and stillness. There are all of these nagging, attacking voices that create noise in our minds. Or voices of aggression. I got a call last night from someone I love with all my heart. They said, "I had a suicidal thought for the first time in my life, and I was so terrified that this thought went through my head. I didn't know what to do with it, and I wanted to call you." Allowing the presence of God to enter into those places of pain, those places of disruption, requires a lot of time and patience. I've found silence to be helpful, though it's not for everybody. I prefer more silence than music.
I think that first movement – receiving, "Andrew, you're my beloved child; I delight in you" – has really required me to slow down. It's also required me to work through some embarrassment, because allowing myself to hear that voice – there's a part of me that says, "I don't need that! I'm okay!" It's so intimate. It's so tender. I think there needs to be softening process, again going back to the plant metaphor, where the seeds can actually sink into the soil of the soul.
So maybe Covid has done some allowing of silence and stillness in which some of those seeds can sink in more. It's been challenging, of course. Thank you.
Justice: Thank you for writing this. Part of my ministry is to people who have been isolated. It could because their in jail from lives of violence. Or they're isolated due to age or mental health. One of the things you just said I wish to affirm: we have to let God love us. I can't tell you how many barriers and snarling dogs I have in me. Faith gets real close. I have them in me, and I say, "I'm not going to let you get that close; I will bite you!" But God comes in very tenderly. Of course, it's usually about 2am with some fear.  It's a vesper moment. I want to affirm you for saying that; thank you for sharing. I often say when I preach in jail, "Gentlemen, you have to let God love you. No, you don't understand: it will be the bravest thing you've ever done."
Andrew: Thank you. That's right.
Steve: I think that's a great note to end on – a wonderful affirmation. Can we join in saying thank you to Andrew and Dan? (Applause)