Dear Friends,
On Friday morning, I opened an email that sent a river of grateful joy flowing through me.
The email was titled "Something New from BitterSweet," and its message announced the launch of BitterSweet Books, with yours truly as its first author.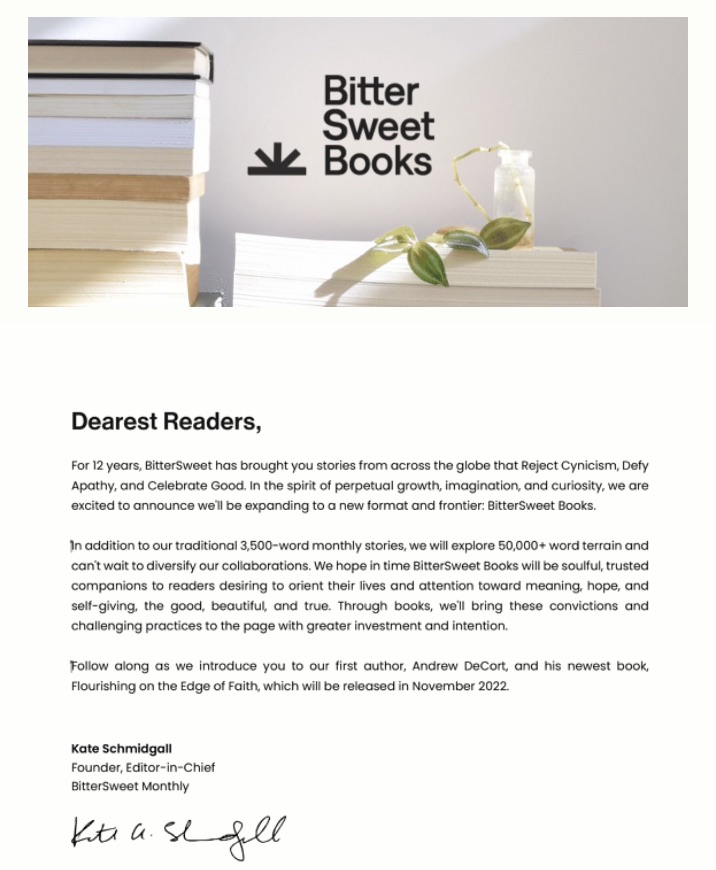 Kate Schmidgall founded BitterSweet in 2009 with the mission of telling stories from around the world that Reject Cynicism, Defy Apathy, and Celebrate Good. In the face of a news cycle that glues us to spectacle, violence, and despair, Kate wanted to help us cultivate an alternative imagination for our lives and world.
For over a decade now, Kate and her BitterSweet team have been pursuing this intrepid, prophetic mission with exceptional excellence, elegance, and kindness. From the beginning, I've thought of BitterSweet's work as a healing vision therapy. Their stories shift who we pay attention to, how we see people, and what we believe is possible for our world. Kate has now published over a hundred stories featuring the work of nonprofits that celebrate good in seemingly every context.
For me, Kate is not only a groundbreaking entrepreneur and brilliant editor. (She was named Young Entrepreneur of the Year by D.C.'s Chamber of Commerce, among other accolades.) Kate has also been one of my dearest friends for over twenty years.
For Kate to take the risk of inviting me to partner with BitterSweet in this new beginning is a sacred gift and tremendous honor that I will always treasure. Working with someone you admire is gift enough; working with someone you massively admire and deeply cherish as a friend is a wild dream come true. Kate, thank you for your extraordinary love, trust, and partnership.
This week I'm celebrating the birth of BitterSweet Books and can't wait to share Flourishing on the Edge of Faith: Seven Practices for a New We with you in November. To receive updates on our book's release and sneak peaks of the 40+ endorsements it's gotten, kindly sign up here.
Yours with gratitude,
Andrew