Dear friends,
Happy Father's Day and Juneteenth!
I know that some of you follow the BEMA Podcast hosted by Marty Solomon and Brent Billings. Last month, I was honored to join them on BEMA to talk about Flourishing on the Edge of Faith. Today I'm delighted to share that episode with you at this link or wherever you listen to podcasts. Look for BEMA Discipleship Podcast Season 6, Episode 332. 
Marty and Brent asked such insightful questions about my journey, what the book is about, and how it can be used in our everyday lives. I was also so encouraged by their feedback on the book. Marty said it's likely the best book he's read on the Lord's Prayer – heartening words from such a prolific reader, writer, and Bible interpreter. Brent said the book has inspired his prayer life with his four-year-old son, who is now leading others through Jesus's prayer.
I hope listening to our conversation gives you similar encouragement and inspiration! Deep thanks to Marty and Brent for their generous hospitality and kindness!
Lastly, my beloved friend and brilliant publisher, Kate Schmidgall, has published an extremely moving story at BitterSweet Monthly about the war in Ukraine and how people filled with God's love are responding. It's called "Ya Tam," which means "I Am There" in Ukrainian – it's a story full of human and divine presence. I sat in reverent silence for ten minutes after reading it, and I'm confident you'll find this story well worth your time.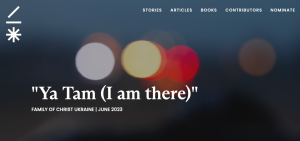 I'm grateful for your presence in my life and pray flourishing for you in this new week!
Yours,
Andrew
*** Andrew DeCort, Flourishing on the Edge of Faith: Seven Practices for a New We (Washington, DC: BitterSweetBooks, 2022). Available at BitterSweetBooks,  Amazon,  Audible, Kindle, Barnes & Noble, and all major booksellers.